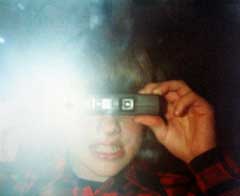 First Self-Portrait

I began taking pictures when I was about ten years old, after getting my first camera, a Kodak Ektralite 10, as a birthday present. The Ektralite was a popular 110 film camera, and although it was a simple and cheap hunk of plastic, I was happy to have it. I immediately began to take all kinds of pictures with it, and they were all terrible. Technically deficient and artistically desolate. Terrible.

A year or so later my grandfather gave me his old Ricoh 35mm SLR camera, the Singlex TLS. Finally I had a real camera and as soon as I learned to thread the film on the sprockets I was taking more terrible pictures than ever. At least they were higher-quality terrible pictures.

By age 14 I had covered the windows of my bedroom with cardboard, turning it into a darkroom. There was no turning back. I breathed fixer fumes day and night, and spent weekends trying to coax a half-decent image out of a scratched-up negative.

Sad to say, if I had a kid who took so many awful pictures, I'd be tempted to hide all the film in the house. Fortunately, nobody told me how bad my pictures were. Even if they had, I probably wouldn't have cared because I was having so much fun taking them.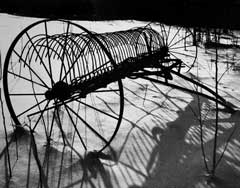 First Prize: "Antique Hay Rake"

Once in a while I did manage to produce an above-average print. One of these was a picture of an old-fashioned hay rake on a farm in the snow. I liked the picture so much that I entered it into the county fair in Woodstock, Connecticut, and even won a first-place ribbon. Persistence paid off, and I was inspired to keep shooting.

A few more years of mediocre images later, I was off to college, where I became an engineering student with a concentration in electro-optics and digital imaging. I didn't expect to make photography a career, so I figured I'd stay with optics and imaging to keep things interesting. At the same time I joined the school's newspaper and found a second home in its darkroom. For four years I took countless pictures around campus, and honed my darkroom skills by producing a pile of prints for the newspaper each week.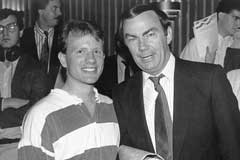 Me and Sam Donaldson covering the 1988 Presidential Race

My school work suffered greatly since most of my time went to photography, but that didn't bother me. I was having the time of my life. I was the eyes of the university, and shot more people, places, and things than I ever could have hoped for.

During these years of non-stop picture taking I was perfectly in tune with my equipment, which I had upgraded to a two-body Canon FD system with a few lenses. My 30-plus pound camera bag traveled with me nearly everywhere I went, and I knew how to get exactly what I wanted out of all the gear. I don't know if I'll ever attain such "one-ness" with my equipment ever again.
Boston Public Garden in Infrared

Since I was already spending so much time in the darkroom, I started experimenting with new films and formats. Kodachrome 64 and T-Max 400 were always at the ready, but at times I tried infrared black and white film, infrared Ektachrome, and a few other slide and black and white print films. (No color print films for me, thank you!) I bought a second-hand 4x5 camera, and borrowed an old but reliable medium-format Mamiya for a while. I was fascinated by what each format had to offer, but 35mm was undeniably the best for me because of its size and flexibility.

Through all these years of practice, my pictures finally began to improve. I'd get one pretty good picture out of a roll of 36 exposures, and that would make me happy. However, even after ten years of taking pictures, there was still plenty of room for improvement.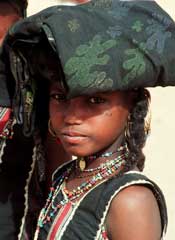 Fulani Girl, Niger

When college ended I joined the Peace Corps for a while, becoming a math teacher in a desolate but beautiful sub-Saharan country, Niger. I didn't give up photography though. One of the publications I worked for sent me off with a brick of Kodachrome, telling me to send them a story with some pictures some day, which I did. The new environment I found myself in was initially very foreign, and somewhat unsettling, but photographically inspiring. After producing about a thousand pictures, I returned to the States and took a break from photography for a while, deciding to concentrate on my 'real' career.

It was about this time in the early 1990's that digital imaging was struggling to become a real consumer technology. All I knew was that I wanted to be part of it. After improving my computer language skills by working at a company that made C/C++ compilers, I moved on to electronic pre-press. I worked for companies like Scitex and Kodak, who produced software that helped users in the digital publishing industry. From there I moved on to Polaroid, working in the electronic imaging division, where I finally started working on software for digital cameras. They produced one-megapixel professional cameras, which were considered high-end at the time though they had limited lenses and feature sets. It was great working on the cutting edge of digital photography, but I still wasn't doing much of it myself. I even upgraded my system completely to the Canon EOS line, but something was missing.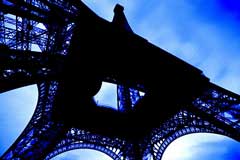 Eiffel Tower

Then along came the Canon EOS D30, the first affordable digital Canon SLR with interchangeable lenses. This was the photographic renaissance I had been waiting for. After using this camera for a few weeks, I had no desire to shoot film ever again. A digital camera inspires creativity in ways no film can. Being able to shoot hundreds of high-resolution pictures in a row, delete the bad ones, shoot a few hundred more, view all the results and share them immediately, and then print over the Internet all without trays full of chemicals is all such a liberating and inspiring experience. If you don't have a digital camera yet, get one!

Now I'm back to taking pictures on a regular basis, and this web site is a gallery of some of my favorite work. If you see something that moves you, let me know about it. Sometimes it really surprises me what people like about a picture. I've been practicing photography for nearly 25 years, and maybe in another 25 I'll get pretty good at it.

- Steve